Morning peeps hope you are all well, you might need a cuppa to get through this post......lol..So
settle down and get comfortable 'cos this is going to be a marathon of a post . . . lots to tell you, lots of exciting news and most importantly lots of fantastic prizes to be won.
Part One - The Ready-Teddy-Go Challenge
The new Ready-Teddy-Go Challenge #13 theme is
Speaks for itself really, anything goes but please don't forget that your entry must feature a bear or teddy as the main image.
Unfortunately each month Julie-Anne has to delete one or two entries because there is no bear there and it makes her feel very mean but she has to be fair to others taking part and the clue is in the name Ready-

Teddy

-Go challenge.
A new feature this month and for future challenges is the introduction of the Top 3 Winner's spots besides the draw winner and the offer of a GDT spot for the selected winner.
Hi Everyone!
I am Michelle from Mishelflo Creative Crafting a small online Craft Shop which I like to think of as your "Crafty Corner Shop".
It's just me who runs it, from making the coffee to packing the parcels.
I hope you like what I have chosen for the August Challenge Prize. I just adore IndigoBlu!
This is what you will receive ..........
1 x IndigoBlu "Discover your Passion" Rubber Stamp
1 x IndigoBlu Slim Jims (5 x different size Acrylic Blocks)
1 x Inkadinkadoo Stamping Surface
(this is an 8" x 8" Heat Resistant Rubber Mat)
5 x various coloured Versa Magic Dew Drop Ink Pads
Good Luck everyone!
Wow, fantastic prize I'm sure you'll agree . . . thank you Michelle
The challenge will run all month from the 1st to 31st of August so plenty of time to take part and don't forget you can enter up to 4 times per month as long as you enter something different each time.
For my tri-shutter card I have used an image from Cuddly Buddly, so apt for when we had the sunshine, now its back to the rain......just hope the sun comes back out real soon. The papers were a freebie in a magazine.
image coloured in with Prisma pencils
Challenges

Tuesday Alchemy......Ice cream
Try it on Tuesday......anythig goes
Party Time......anything goes
Oldie but a goodie......summer inspiration (old image and papers)
Ladybug Crafts Ink.....summer fun.
Everybody Art.....Summer.
Die Cuttin' Divas.....anything goes.
Deep Ocean......anything goes.
Creative Card Crew.....on the beach.
Celebrate the Occassion.....Ice Cream
Bearly Mine......anything goes.
Pile it on....Cute as can be
Cupcake.....the great outdoors.
Crafty Calendar.....fun in the sun.
Dream Valley....Summer.
Secret Crafter......bright and cheerful
My Sheri Crafts .....ice cream.
Now on to the next part
Part Two - The RTG Birthday Blog Hop
It's also our 1st Birthday at Ready-Teddy-Go Challenge and we are feeling in the mood for a celebration so . . .
. . . we have a
Birthday Blog Hop
running from the 1st to the 19th of August.
We have a fantastic Birthday Goody Bag from Meiflower up for grabs as the main prize but there are lots of hidden prizes along the way too so make sure you visit and comment on each of the blogs. Believe me it will be well worth the effort of taking part . . . I can't say any more than that!!!
You
will see a Blue Frog linky on each site but you only have to enter your details in once as we are all using the same collection for the hop.
We are also asking that if you want to take part, you:
1) Are or become a Follower of the Ready-Teddy-Go challenge blog
2)
Display our Blog Hop button [below] somewhere in your sidebar; and finally
3) You leave a comment on each of the DT sites
.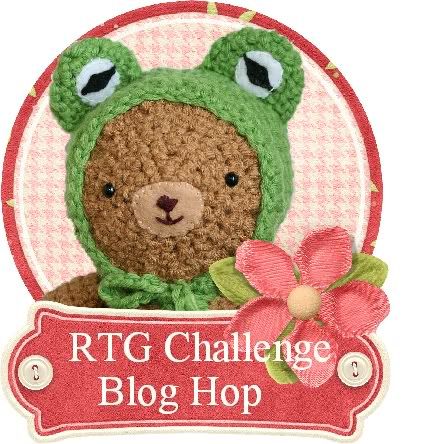 You should follow the hop in this order of visits:
So from here you are 'hopping over' to
Debbie's
blog

Each DT member should clearly guide you and hopefully you won't get lost!!
Happy Birthday Hopping and thank you for taking part . . . have fun and it will be worth your while I promise!!!
because for one lucky person who leaves a comment on my blog they will win this
fabbie Fizzy Moon Teddy stamp as well as a chance to win other prizes hidden
along the way
and don't forget the main prize from Meiflower.
Hugs n smiles and good luck
Daniele